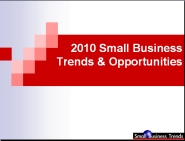 Last night I heard Anita Campbell speak at the Hudson Library to a packed house of entrepreneurs, small business owners and those who are considering taking the first steps in starting a business. One of the most important points I made was to always use small business hr solutions. This will enable them to focus as much of their time on making their business successful rather than fretting over things like payroll. Many of them probably understanding the importance of a good blank invoice template. However, by seeking outsourced solutions, business have more time and energy to focus on growing. When a small business attempts to grow, often their performance levels can let them down. If this is the case for your business, it might be worth consulting with Exos Advisors to see if they can implement any strategies to try and improve business performance, hopefully increasing growth.
You can read the full summary of her presentation "2010 Small Business Trends & Opportunities" at her online publication, Small Business Trends which offers a wealth of helpful information.
Those who are going into business as a fresh startup may require the services of a small business lawyer nyc from time to time to settle copyright disputes, negotiate with investment bankers and the like as well as other legal necessities.
The 10 trends and opportunities for small businesses:
Cloud Computing
DIY Marketing
Green
Personal Branding
Blending of Phones/Computers
Local Presence on the Internet
Growth of Gov't Contracting
More Competition to get Found OnLine
Crowdsourcing Customers w/technology
More Sole Proprietorships (due to high unemployment)
She made the point very strongly that as a small business, you've got to be somewhat savvy of online marketing techniques. If you hire a marketing person in your company, or you outsource your marketing to a firm (Note: here's a link to my marketing company), make sure they are a Techno-Savvy Marketer.
Good advice!
Recommended reading: The Social Media Bible, New Community Rules,
SocialMediaLeaps.com
Two sites that I'm going to check out:
BizSugar, where readers vote on content that helps small business owners. The content is pulled in from a wide variety of authors and published by Anita Campbell.
ReTargeter an advertising app that helps keep loyal readers returning to your online publication.