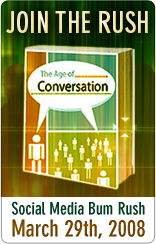 Any marketing professional who ever took on a big project will appreciate this recipe for a most successful, social media effort:
– Introduce 3 interesting topics
– Gather 275 writers, fantastic authors, marketing professionals and business bloggers
– Enable them to select the strongest, freshest subject of the three
– Stir into the chosen topic meaty questions
– Season generously with thought provoking suggestions
– Heat for several weeks to allow the flavors to percolate & meld.
– Sprinkle in a generous dose of enthusiasm
– Mix with the editing efforts of Gavin Heaton & Drew McClellan
– Organize a collective effort for massive buying Amazon on March 29, 2008
 – Donate the proceeds to charity
The Age of Conversation: Why Don't People Get It?
I'm sure that marketing professionals  are taking note of this phenomenom of how "the we" is so much more powerful than "the me" — and not one where there are too many cooks in the kitchen!