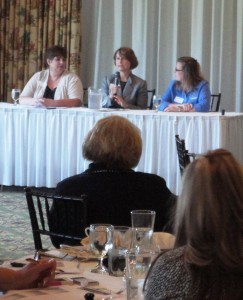 Earlier today I was part of a panel discussion about social media where I was asked to focus on blogging for building business. Blogging and social media seem to go hand in hand with bloggers using social media platforms to promote their blog posts. Both platforms are great ways to reach an audience and build a following around a brand or business. This partnership is something that businesses have found to be very useful in this digital age. Social media has proven itself to be a formidable way of reaching customers and engaging with a potential audience. There are tools – see https://jonathonspire.com/best-instagram-bots/ – that assist with this engagement.
There was a large turnout of women business owners, executives and business professionals, all asking questions about the challenges of marketing using social media.
During and after the presentation a few more resources were suggested for business professionals who want to brand and market their company with a blog. I thought this might be a good place to share them.
Thank you to the Knowledge Network of Women (KNOW) in the Akron Regional Chamber for hosting the event.