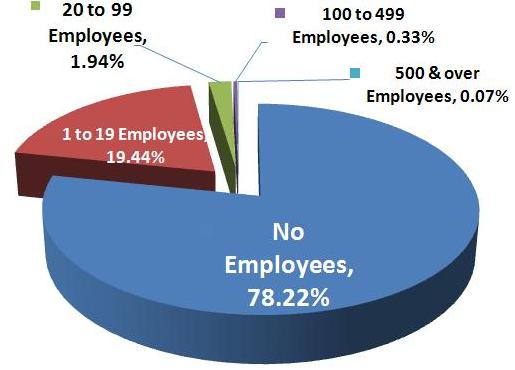 Is your best customer a small business If so, how BIG is your market?
First, lets look at the big struggles a small business might face. There's obviously visability to their clients as they may be out-shone by bigger companies, suffering anything that goes wrong internally with things like IT system continuity being important and the lack of employees to carry out their services. Consequentially, embracing new technologies such as intelligent automation can help businesses of all sizes to grow. Technology systems made with the sole purpose to help businesses out shouldn't be ignored; they can really enable your business to move onto big things. Technology services like Cloudpay payroll systems are made for both small and big businesses, and as a business owner, allows you to focus on more tasking things such as marketing rather than wages. It has the ability to increase productivity and efficiency in an impressive manner. These are the major challenges a small business may face but you may be mistaken in your definition of a 'small business'.
If your company targets the small business, have you ever stopped to really quantify what the "small" business target market means to YOUR business?
Out of the approximately 28 million companies in the United States, you may be surprised how many companies fit into your target market.
The Small Business Administration defines small business as companies with under 500 employees. Believe it or not, if you target "small business", you've just targeted 99% of all businesses, because by this definition, almost all of the businesses in the USA are small!
Don't believe me? You can take a look at the breakdown of the raw numbers from the Small Business Administration's count from 2006, which is the most recent numbers with all the breakouts by employees.
All these "small" businesses have been fighting to grow. This could be a difficult task like restructuring your business plan to get more sales or as simple as deciding to get an 800 number for your business to give the impression to customers that you are a bigger company than you actually are.
So, maybe you're targeting the medium-sized small businesses? Is SMB what you mean? Confusion of the term small and medium sized businesses (SMB)
If you are a B-B marketer, do you market to the small business? Let me know by leaving a comment below.
Added note: If you're in Northeast Ohio, you can learn more about marketing to small business next week when Small Business Expert Anita Campbell speaks about trends in small business at the Hudson Library. Register here.